Capri Summer Tour
Savor the Summer: Dive into the Waters off Capri!
Book a tour with Capri Summer Tour
The perfect day at sea to explore the breathtaking coastline of Capri, Italy - sea grottoes, hidden coves, and crystalline water.
---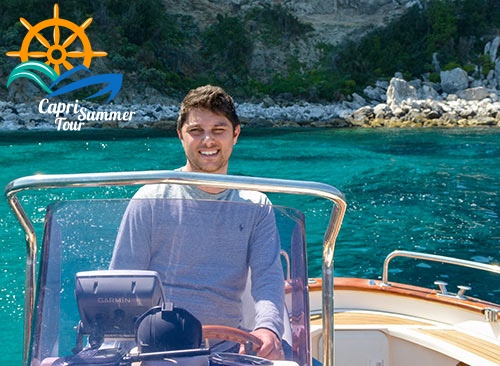 Salvatore
Your skipper for the day
At the helm of the Partenopea, Salvatore is an island native, professional captain, and expert at the finding the most beautiful spots along the coast.
Salvatore has been working with Capri's boat tour companies since he was very young. After graduating from nautical school, he set sail with the merchant marine to become ship's captain before he was 30 years old. After a decade sailing the globe, he decided to return to his native island of Capri to spend his days on board the Partenopea, a traditional gozzo boat...closer to the sea he has always loved and to his beloved Martina!
---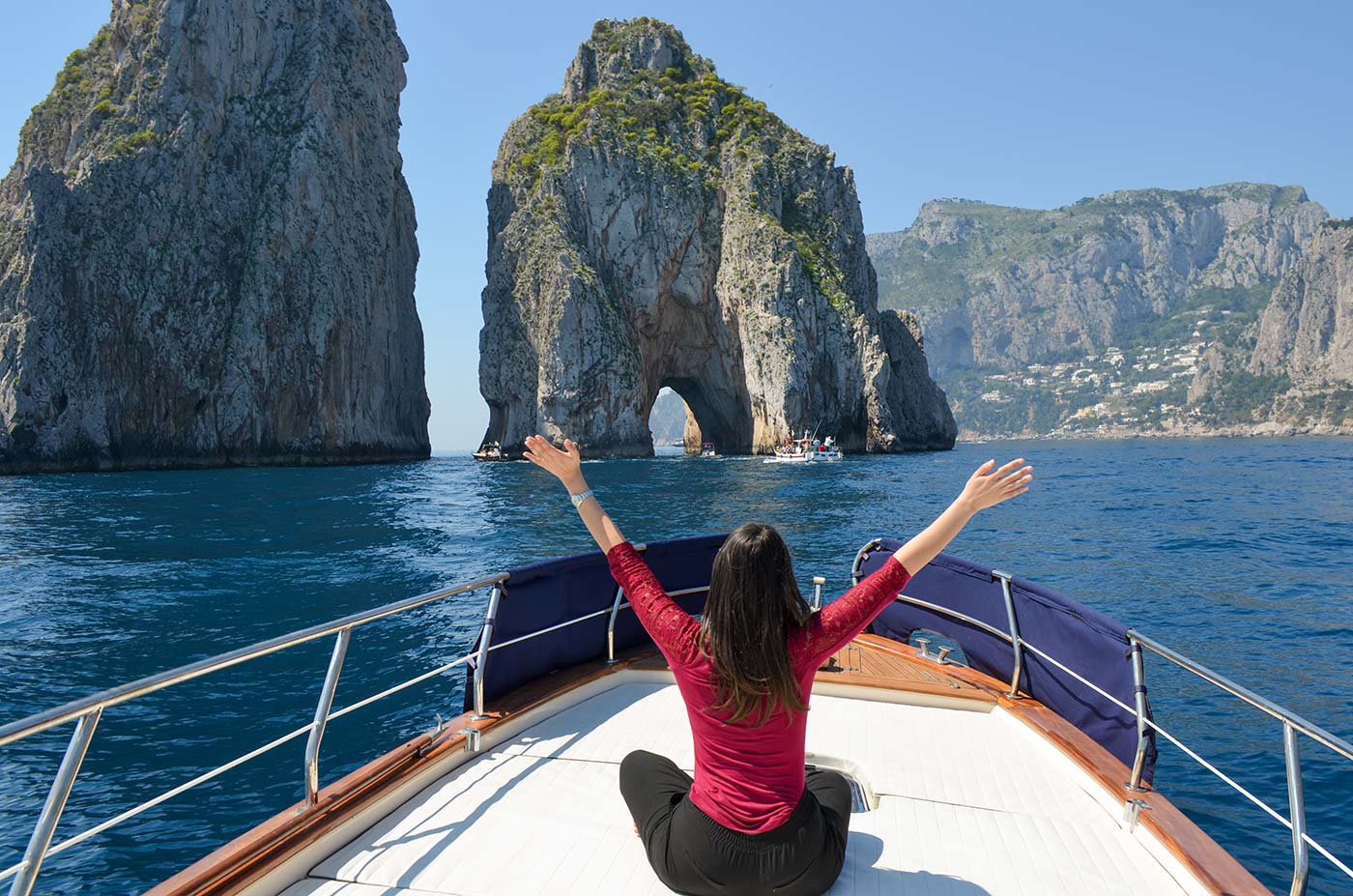 The beauty of the Faraglioni from up close!
Recommended tours
Departure from: Capri
From € 100
Per boat | Max 7 passengers
Duration 2 hours 3 hours 4 hours 6 hours
Hop aboard for a welcome drink
Inflatable toys for fun in the water
A skipper with 10 years of experience
Departure from: Capri
From € 160
Per boat | Max 7 passengers
Duration 2 hours
English-speaking captain
Aperitivo with limoncello and soft drinks
Family-friendly boat tour
Departure from: Capri
From € 650
Per boat | Max 7 passengers
Duration 8 hours
Inflatable toys
Welcome drink
English-speaking captain
---
Celebrate with Us
Celebrate with Us
We love to arrange special occasions and celebrations on board with our clients. We can make any birthday, anniversary, or themed tour to mark a national holiday extraordinary!
Here are some ideas...
Marriage proposal with Prosecco, flowers, and professional photographer to capture the moment
Anniversary celebration with flowers, Prosecco, and a Polaroid snapshot
National holidays with a picnic and themed decorations: 25 April and 2 June (Italian holidays), 4 July (USA), 14 July (France), 7 September (Brazil), 15 September (Mexico).
Any occasion or event you want to celebrate, we know how to make it unforgettable. Contact us!
---
The Capri Summer Tour boat
The Partenopea is a wooden gozzo boat built by the Mimì shipyard. Stable and safe, with an elegant Italian design, this craft is perfect for a relaxing day at sea.
The Partenopea Gozzo
A modern version of an island classic:
185 hp engine
Length: 7.8 meters
Minifridge and stereo
Table, couches, and large sundeck
Double awning to shade the entire boat
Fresh-water shower
Cabin with wc
FAQ
How many people can fit on the boat?
The Partenopea can take up to 7 passengers.
Is there a bathroom on board?
Yes, there is a small wc and a cabin to get changed.
Can small children take the tour?
Yes, we have a number of inflatable toys so kids can have fun in the water. This boat is perfect for those with small children since there is space for a stroller or pushchair on board and large awnings to create shade.
Where is the meeting point for the tour?
On Capri at the entrance gate to the Marina, in the port town of Marina Grande.
Can we depart from somewhere else?
Yes, we can pick you up in a number of locations along the Amalfi Coast. Contact us and we will send you an estimate!
Can we take food and drinks on board?
Yes, of course. You can also let Salvatore and Martina know what you would like to eat and drink, and we can take care of stocking the boat for you.
What can we see during our boat tour?
Departing from the Marina Grande port, we will pass Tiberius' Leap, the White Grotto, the Natural Arch, the Faraglioni, Marina Piccola, the Green Grotto, the Punta Carena lighthouse, the Blue Grotto, and the ruins of the Roman villa that once belonged to the emperor Tiberius.
Can we visit the Blue Grotto?
Yes, during your tour of the island, we can stop at the entrance to the grotto where visitors are required to take small rowboats to enter the grotto. Tickets to enter the grotto must be purchased at the entrance.
What happens if there is bad weather?
If we have to cancel the tour because of inclement weather, we can reschedule for a different date or cancel the booking for free.
Can we stop for lunch during the tour?
Of course! Full-day tours can include a stop for lunch at a restaurant along the coast; half-day tours can included a pick-up or drop off directly at one of Capri's waterfront restaurants.